09 Mar

GARLIC BUTTER STEAK BITES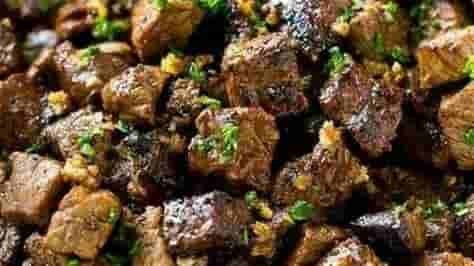 INGREDIENTS
2 lb.
ribeye steak
4 tbsp.
extra-virgin olive oil
4 tbsp.
butter
2
large garlic clove, minced
1 tsp.
fresh parsley leaves, minced
DIRECTIONS
Cut steak into 3/4-inch cubes and season with salt and pepper.
Heat half of the oil in a large heavy bottomed skillet over medium-high. Add half the steak in a single layer and cook, turning a few times until golden and medium rare, about 5 minutes. Add half of the butter and half of the garlic and toss to coat. Remove steak to a serving bowl. Repeat with remaining steak.
Garnish steak with parsley. Serve with toothpicks.