06 Oct

Customer spotlight- MacMillan Piper

This month we are doing a company spotlight on MacMillan-Piper. MacMillan-Piper is a local Transloading/Warehousing and Logistics company, headquartered in Seattle, WA. MP offers import, export and domestic services.
MacMillan-Piper was founded in 1969 by Jim Piper in Seattle. He built it into the largest transloader and freight station in the northwest. They are recognized nationally and internationally as a leader in transportation services.
Today, MacMillan-Piper is led by Mark Miller, their President & CEO.  Mark is a native of Shelton, WA.  He graduated from the U.S. Merchant Marine Academy at Kings Point, New York with a degree in Marine Transportation in 1993.  Prior to joining MacMillan-Piper in 2013, Mark spent 21 years in stevedoring and terminal operations throughout the U.S. West Coast, including oversight for terminal, vessel, rail, bulk, breakbulk, and auto/RORO operations.  Mark is a current member of the Washington State Department of Transportation Freight Stakeholder Group, a member of the Executive Advisory Council for the Northwest Seaport Alliance, an Instructor for the Maritime Management Certificate Program at Pacific Lutheran University, a Board member for the Washington Trucking Associations, a member of the City of Seattle's Industrial and Maritime Advisory Group, a member of Pierce County's Trade-Logistics Cluster Acceleration Team, and is the past President of the Transportation Club of Tacoma (2012).  Outside of work, Mark enjoys spending time with his family and anything in the outdoors, especially fishing, hunting, and hiking.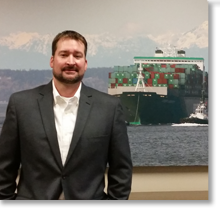 MacMillan Piper can move/process 350-400 containers a day at their facilities.  They have 120 truck doors, and 70 rail car doors at their 5 facilities. 
Transloading is the process of transferring a shipment from one mode of transportation to another. It is most commonly used when one mode cannot be used for the entire trip, such as when goods must be shipped internationally from one inland point to another. Such a trip might require transport by truck to the airport, then by airplane overseas, and then by another truck to its destination: or it might involve bulk material loaded to rail and transferred to a ship at a port.
MacMillan Piper Services: Import, Export/Domestic Imports: Refrigerated products, steel, aluminum, lumber, various palletized and bagged products, MDF, plywood and a new business added in 2019:  Bulk organic agricultural products.   
Exports: Kraft liner board and paper products, pulp, Bentonite clay, bulk and bagged agricultural products, copper oxide, machinery, and lumber.
Domestic: Refrigerated, Paper Rolls, over dimensional, reworks.
MP has industry relationships with Union Pacific Distribution Services, Burlington Northern, Port of Seattle, Port of Tacoma, Manufacturing Industrial Council, Agriculture Transportation Coalition, NW Seaport Alliance, USA Dry Pea & Lentil Council, Tacoma Public Utilities, Washington Trucking Association, Transportation Club of Seattle, and Transportation Club of Tacoma.