06 Oct

Christmas baked egg dish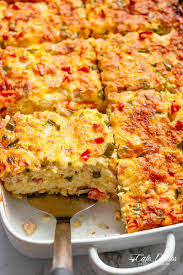 Ingredients
cooking spray
10 large eggs eggs, beaten
2 (16 ounce) packages cottage cheese
1 pound shredded Monterey Jack cheese
1 (4 ounce) can diced green chiles
½ cup butter, melted
½ cup all-purpose flour
½ cup cooked crumbled bacon
1 teaspoon baking powder
Directions
Step 1 Preheat oven to 400 degrees F (200 degrees C). Prepare a 10×13-inch baking dish with cooking spray.
Step 2 Mix eggs, cottage cheese, Monterey Jack cheese, green chiles, butter, flour, bacon, and baking powder together in a large bowl; pour into prepared baking dish.
Step 3 Bake in the preheated oven for 15 minutes. Reduce heat to 350 degrees F (175 degrees C) and continue baking until a toothpick inserted into the center of the casserole comes out clean, about 30 minutes more.